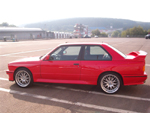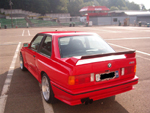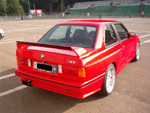 Hello friends,

Hi i am Pedro Van de Wielle from Belgium.

Here are some figures:

registered in belgium 03/07/1990
i am the third owner
brilliantrot
from the 600 made ,there are 202 red ,2 individuals and the rest is black.
me and my wife are working both in a bmw garage (Romein Aalst).
chnr ac79517
i have the car almost 2 years
complete new suspension orig.bmw
i have the orig.alloy wheels aswell ,brand new
complete new distribution.
new steering wheel,gearknob,handbrake handle (alcantara)
134000 km
elec sunroof
bmw sound system
leather interior black
sunscreen
elec windows and mirrors
the car is in very good condition,i am driving it on sunny days.
thats about it,good luck with s14 it's super!

Kind regards Pedro

E-mail: kathy.eloot@compaqnet.be


<-- zurück